Student Smart Stage - University of Delaware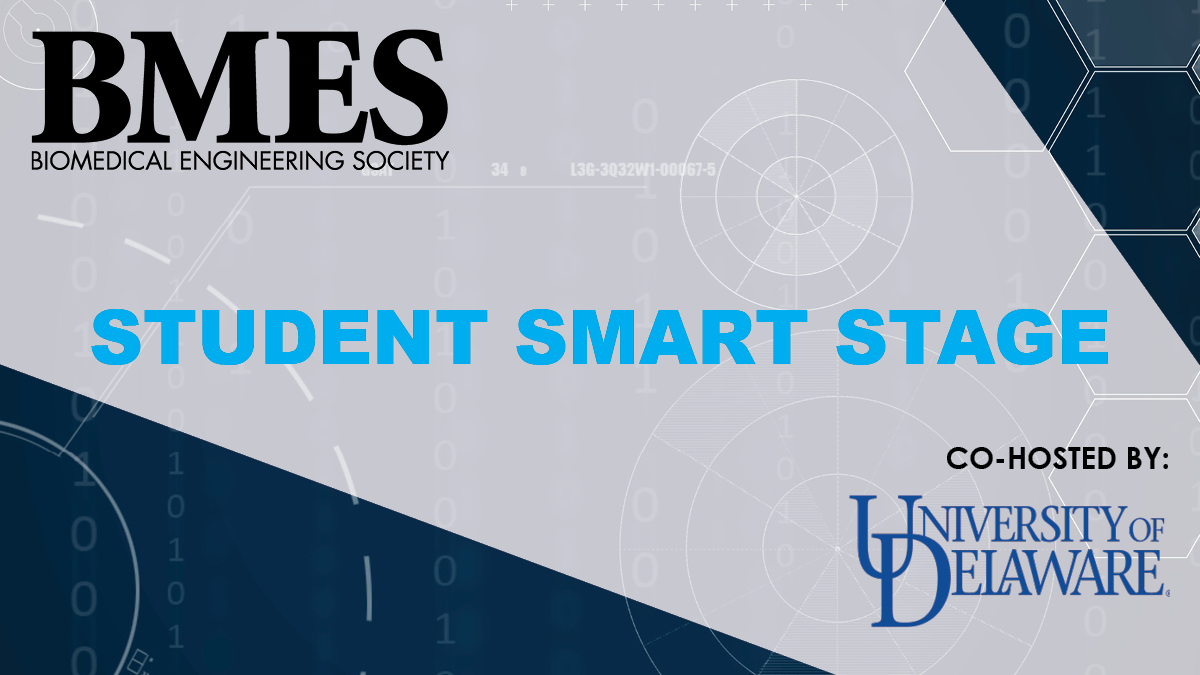 BMES is co-hosting our very first Student Smart Stage with the University of Deleware's BMES Student Chapter.
This Student Smart Stage will educate students on how to improve their research presentations in a formal setting. It will feature a dummy research competition, as well as workshops and talks on how to put together abstracts, posters, and oral presentations. To close out the event there is a featured a fireside chat with the 2021 BMES Annual Meeting Co-Chairs — Shelly Peyton and Manu Platt — who will answer questions about the upcoming Annual Meeting, abstracts, posters, and more.
Student Smart Stage on Saturday, June 12 from 10:00 a.m. ET to 4:00 p.m. ET
**You will need to download and sign into Discord in order to participate in the Student Smart Stage!**
Key dates to remember:
Today: Log into Discord
June 10th: Research from your selected track is emailed to you for review so you can begin outlining your submission
June 12th: Student Smart Stage
June 24th: Abstracts and Poster Winners Announced
PROGRAM AT-A-GLANCE
Two days before Student Smart Stage:
Dummy Research Sent Out
10:00 - 11:00 a.m.
Introduction and Presentation on Abstract Writing
Dr. Cynthia Reinhart-King and Jenna Mosier
11:00 - 11:30 a.m.
Breakout Rooms to Work on Abstracts
11:30 a.m. - 12:30 p.m.
Presentation on Poster Making
Dr. Kristen Billiar
12:30 - 1:00 p.m.
Breakout Rooms to Work on Posters

1:00 - 2:00 p.m.
Break

2:00 - 3:00 p.m.
Presentation on Presenting
Dr. Dawn Elliott and Ellen Bloom
3:00 - 4:00 p.m.
Fireside Chat with 2021 BMES Annual Meeting Co-Chairs
Shelly Peyton and Manu Platt
Two days after Student Smart Stage:
Poster and/or abstract is Due for Judging
Seven days after Student Smart Stage:
Poster Competition Winners and Abstract Competition Winners Selected