BMES Mid-Career Award
The BMES Mid-Career Award recognizes a member in good standing who has demonstrated significant leadership and achievements in biomedical engineering. These achievements may be in scholarship, education, mentorship, leadership, or the practice of biomedical engineering.
An academic nominee will hold associate professor status consistent with peer recognition for contributions as an independent research educator. In non-academic sectors, the candidate will have demonstrated substantial contributions in mentorship, practice, or leadership within appropriate positions in the industry.
BMES Mid-Career Award Recipients
2022 - Evan Scott, PhD - Northwestern University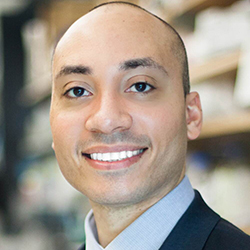 2021 - Princess Imoukhuede, Ph.D. - University of Washington
2020 - Omolola "Lola" Eniola-Adefeso, Ph.D. - University of Michigan
2019 - Celeste Nelson, Ph.D. - Princeton University
2018 - Cynthia Reinhart-King, Ph.D. - Vanderbilt University
---
Application Requirements
1. A CV clearly noting the doctoral degree's date (not to exceed five pages).
2. A nomination letter highlighting the nominee's contributions to biomedical engineering in mentorship, practice, leadership, scholarship, or education. This letter should be sent directly to membership@bmes.org.
3. Two confidential letters of support for the nominee's contributions (no longer than two pages each). The letters should attest to the applicant's meritorious achievements and energetic leadership in biomedical engineering. Note: Letters should not be from a former mentor, anyone at the nominee's institution, or the nominator and should be sent directly to membership@bmes.org.
4. A one-page statement by the nominee highlighting their significant involvement and sustained contributions to BMES.
Award Eligibility
1. The nominee must have earned their doctorate no more than 20 years and no less than ten years before May 15 of the application year to qualify.
2. At the time of submission, the nominee must be a faculty member at the associate level (at minimum) or the industry's equivalent level.
3. The nominee must be a BMES member in good standing.
Award Rubric
To view the award rubric, please click here.
Award and Honorarium
The recipient receives complimentary registration for the Annual Meeting, where they will present their lecture, a trophy, and an honorarium of $5,000.
**The Awards Committee will screen all nominations, critically evaluate the nominee's records, and submit its recommendation to the BMES Executive Committee for approval.
Make sure your application meets all the requirements stated above.
For questions, please contact Katherine@bmes.org
THE AWARD DEADLINE WAS JUNE 30, 2023.