2021 - 2022 Student Design Competition Winners
BMES congratulates all twelve finalists of the 2022 Medtronic BMES Design Competition.
The Biomedical Engineering Society would like to congratulate the four winning teams from the 2022 Medtronic BMES Design Competition held in San Antonio during the 2022 BMES Annual Meeting! Twelve teams traveled to San Antonio as finalists and competed for awards among four categories: mechanical/electrical, electrical/computer science, chemical/biological, and supply chain. Below are photos of the winning teams receiving their $2,500 awards, with Walt Baxter and Bret Hauser representing Medtronic (left and right, respectively).
---
Mechanical/Electrical
Pictured clockwise from top left are Christina Aridi, Benjamin Wilson, Brianna Vance, Natalia Evelyn Valenzuela, and Hannah Oman from Arizona State University for their UroSpout device that is designed to reduce urinary tract infection rates in patients using chronic urinary catheters.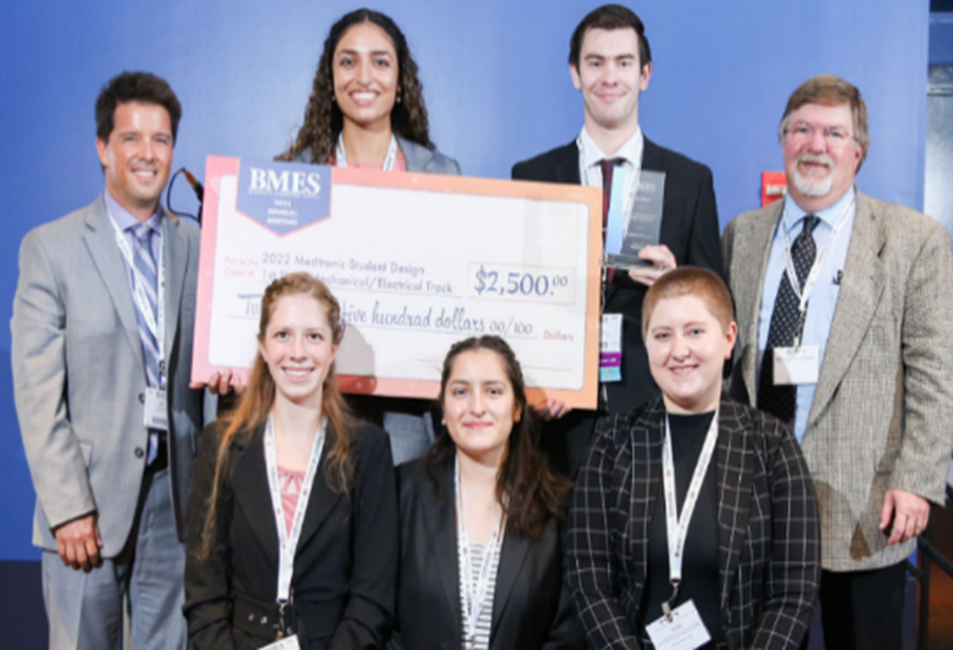 ---
Electrical/Computer Science
Pictured are Joshua Norton (Purdue University) and Elizabeth Hughes (University of Michigan) representing Casey Lam (Tufts University, not pictured), and Amirhossein Yazdekhasti, Hamid Ghaednia, and Joseph Schwab (Massachusetts General Hospital, not pictured) for their wearable ultrasound cuff project seeking to provide early detection of prosthetic knee implant loosening.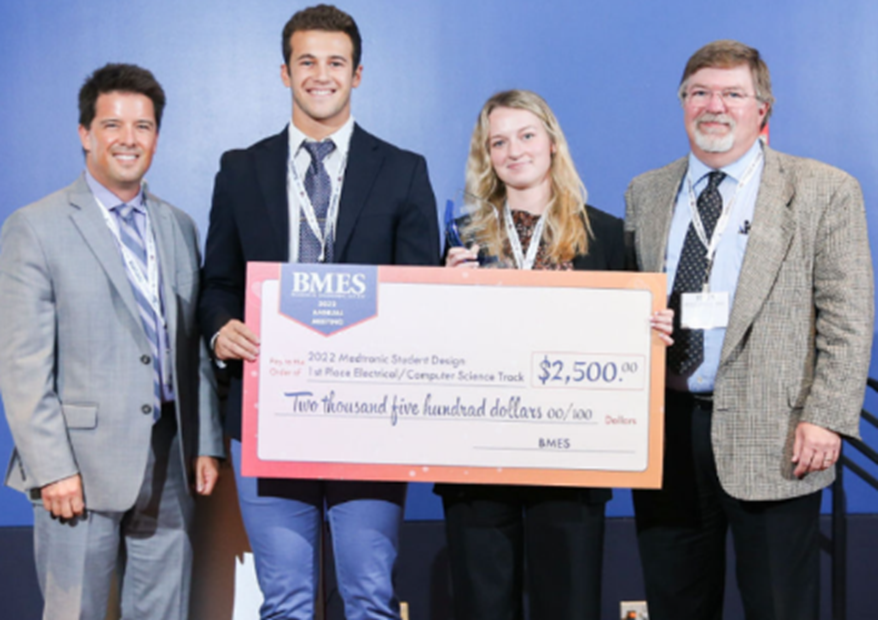 ---
Chemical/Biological
Pictured are Anujan Ramesh and Vaishali Malik representing Nilesh Deshpande, Anh Nguyen, Anthony Brouillard, and Ashish Kulkarni (not pictured) from the University of Massachusetts, Amherst Biomedical Engineering for their Quaesar Therapeutics project that aims to detect ovarian cancer much earlier than current tests.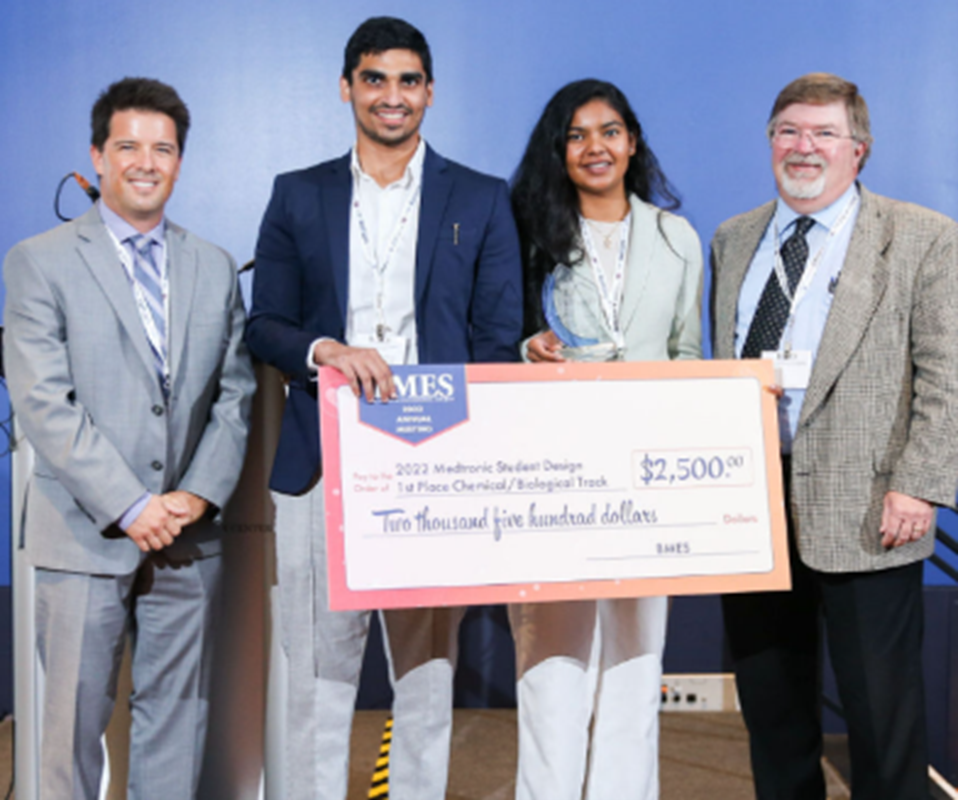 ---
Supply Chain
Pictured are Peter Kouassi, Isaac Tenga, and Shani Katz (not shown) from Northwestern University Biomedical Engineering for their project entitled "POCAS-TB: Point-of-Care Solutions for Tuberculosis Diagnostics" that attempts to solve supply chain issues through local manufacturing and development of a diagnostic platform designed in partnership with Malian healthcare professionals.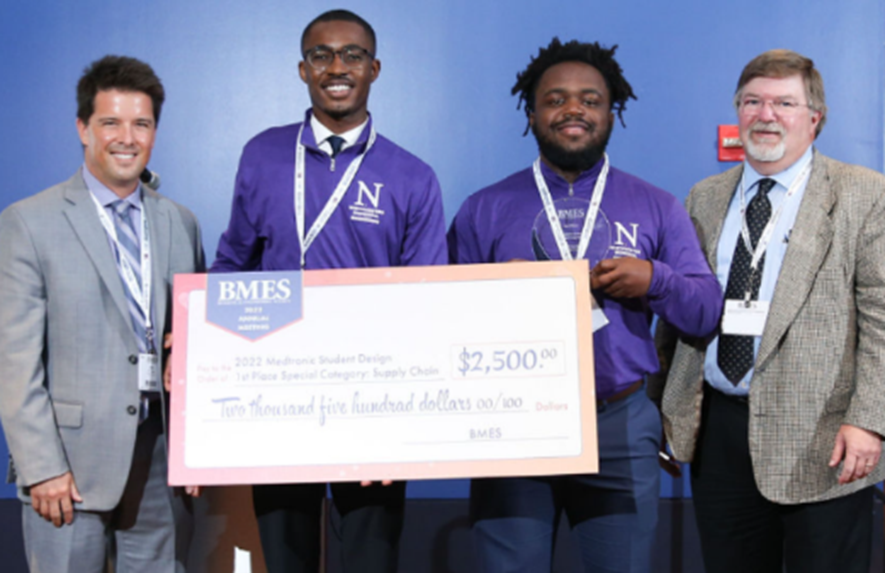 BMES congratulates all twelve finalist teams in the competition and looks forward to sharing information about the
2023 Design Competition in the coming months.