MEET OUR NEW INDUSTRY BOARD MEMBER
Date posted
August 7, 2021
David Jamison Joins the BMES Board of Directors.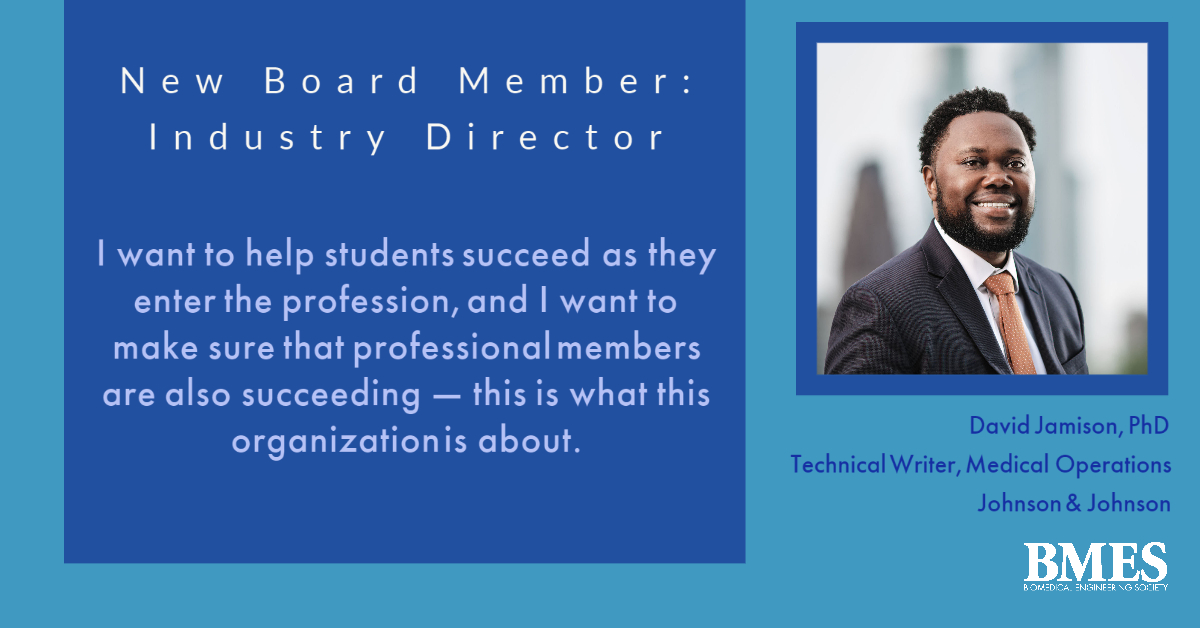 QUESTIONS WE ASK OUR NEW BMES BOARD MEMBERS
What qualities do you think make a great board member, and what personal qualities can you bring to the board?
Being a critical thinker and being an empathetic listener. You need to be able to listen and understand what the needs are and what is valued so you can offer those things. I want to help students succeed as they enter the profession, and I want to make sure that professional members are also succeeding — this is what this organization is about.
What would you like to accomplish in the next 12 months as a board member?
I want to lay the foundation and take the time to listen to what our members are looking for. I also want to see what our non-members are looking for to make them aware of BMES and bring them into society. So, I want to develop a plan that we can execute for the final two years of the term.
Why did you become involved in the organization, and what has your involvement looked like over time?
My first experience was getting a travel grant. I wasn't a member till then. I ended up getting more involved as my career grew in both sector and academia. Now, I've served on panels, reviewed abstracts, and have been a part of DEI efforts.
What's the best piece of advice you ever got?
Be true to yourself. It's my North Star. For me, that means understanding what makes me happy and what I am trying to get out of something. I've used that to guide my career decisions, but I also try to apply it to all aspects of life.


10 FUN RAPID-FIRE QUESTIONS
If you could have dinner with any famous person (dead or alive), who would you choose?
George Washington Carver, because he had so many inventions
If you could have any superpower, what would it be?
Fly
Favorite movie and/or TV show?
Ted Lasso
Favorite book?
The Smartest Kids in the World
Favorite food?
Anything seafood
Favorite flavor of ice cream?
Cinnamon graham cracker
Coffee or tea? Hot or cold?
I don't normally drink either, but if I had to pick I would go with hot tea
Morning person or night owl?
Night owl
Favorite color?
Blue
Favorite season?
Summer