MEET OUR NEW BOARD TREASURER
Date posted
August 7, 2021
Debra T. Auguste Joins the BMES Board of Directors.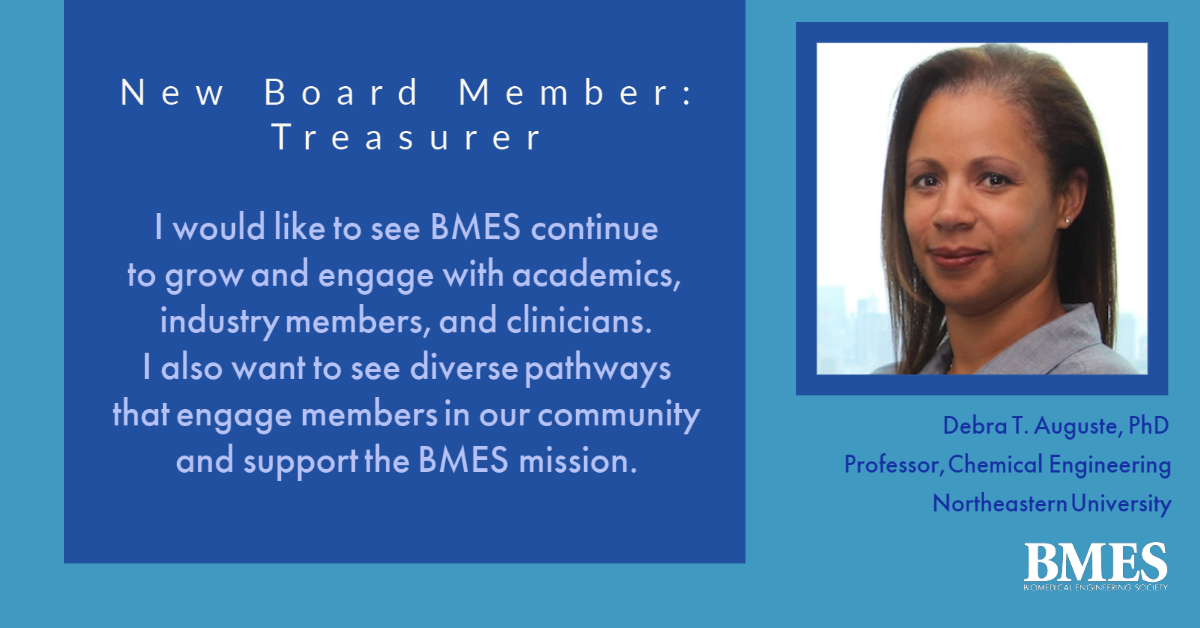 QUESTIONS WE ASK OUR NEW BMES BOARD MEMBERS
What qualities do you think make a great board member, and what personal qualities can you bring to the board?
Working collaboratively, identifying and improving how we do things, setting priorities, and a commitment to creating an inclusive organization. I will bring to the board an ability to innovate and collaborate and my determination to get things done.
What would you like to accomplish in the next 12 months as a board member?
I would like to see BMES continue to grow and engage with academics, industry members, and clinicians. I would also like to see diverse pathways that engage members in our community and support the BMES mission.
Why did you become involved in the organization, and what has your involvement looked like over time?
Coming from a chemical engineering department, it was refreshing to see engineers and scientists across disciplines developing solutions that impact human health. I also appreciated that BMES has a diverse and engaging membership.
What's the best piece of advice you ever got?
Identify and focus on your strengths, not weaknesses.


10 FUN RAPID-FIRE QUESTIONS

If you could have dinner with any famous person (dead or alive), who would you choose?
Amelia Earhart. She was a go-getter.
If you could have any superpower, what would it be?
Fly.

Favorite movie and/or TV show?
Right now, Ted Lasso.
Favorite book?
I have a problem with starting books and not finishing them.
Favorite food?
Ackee and saltfish, a traditional Jamaican dish. It brings back fond memories of dining with my family.
Favorite flavor of ice cream?
Chocolate
Coffee or tea? Hot or cold?
Hot. Black. Coffee.
Morning person or night owl?
Morning person

Favorite color?
Blue
Favorite season?
Autumn