MEET OUR NEW BOARD PRESIDENT
Date posted
September 17, 2021
Cynthia Reinhart-King, PhD joins the BMES Board of Directors.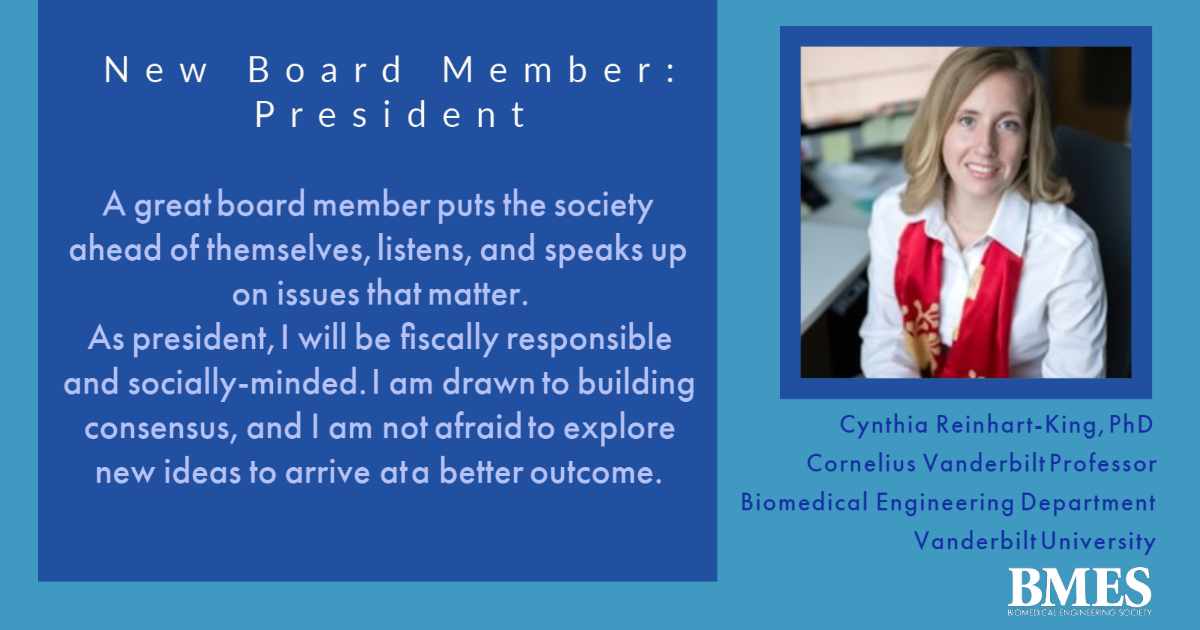 QUESTIONS WE ASK OUR NEW BMES BOARD MEMBERS
What qualities do you think make a great board member, and what personal qualities can you bring to the board?
A great board member puts the society ahead of themselves, listens, and speaks up on issues that matter. As president, I will be fiscally responsible and socially-minded. I am drawn to building consensus, and I am not afraid to explore new ideas to arrive at a better outcome.
What would you like to accomplish in the next 12 months as a board member?
BMES is facing many challenges, like many societies, as we deal with the hurdles associated with COVID-19 and inequities across society. We must continue to address those challenges. However, we are also in a terrific window of having robust membership, many members who are eager to get involved with the society's activities, and a national lens on science and scientists. One of my goals will be to identify and create opportunities for our members to help build the reach of the society and its members.
Why did you become involved in the organization, and what has your involvement looked like over time?
BMES is my scientific home. I have been involved in the Society for over 20 years, since my time as a graduate student. I have attended almost every annual meeting, and I have served on the Board of Directors, the Executive Committee, and as a Program, Track, and Session Chair. I helped to create the New Innovator special issues of Cellular and Molecular Bioengineering, which has helped highlight some of our society's superstars. I have really enjoyed helping to build and shape the society.
What's the best piece of advice you ever got?
Leave a place better than you found it.


10 FUN RAPID-FIRE QUESTIONS
If you could have dinner with any famous person (dead or alive), who would you choose?
Julia Child, but only if she is the one cooking! Otherwise, I will need to re-think this one.
If you could have any superpower, what would it be?
Time-travel, for sure.

Favorite movie and/or TV show?
Of all-time: Sopranos. Right now: Schitt's Creek.
Favorite book?
Little Women or Sherlock Holmes mysteries. It's a toss-up.
Favorite food?
Ice cream
Favorite flavor of ice cream?
Anything that combines chocolate and peanut butter.
Coffee or tea? Hot or cold?
Iced Tea, unless it is grant-writing season. Then, coffee.
Morning person or night owl?
Night owl, definitely.

Favorite color?
Pink, for almost anything.
Favorite season?
Summer, it is a great time to recharge and think.