LABS AND INSTITUTIONS RALLY TO DONATE PERSONAL PROTECTIVE EQUIPMENT
Date posted
March 25, 2020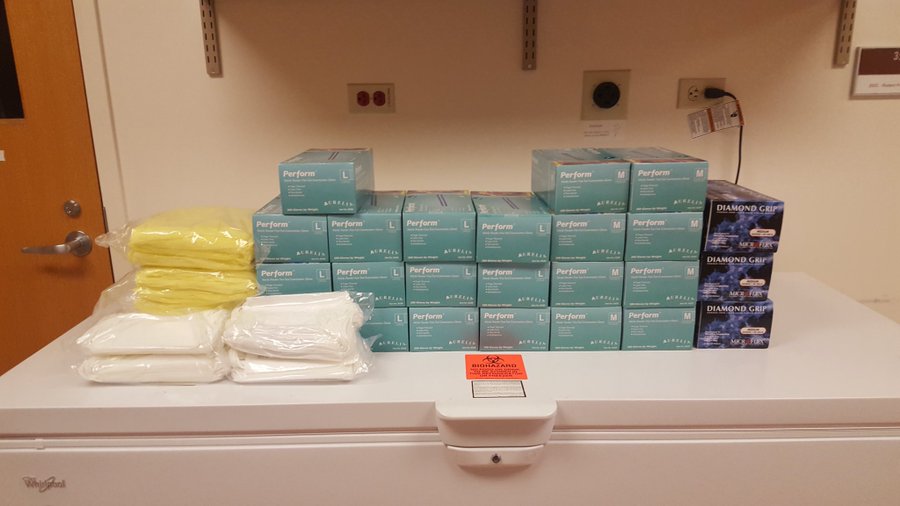 In a Tweet, Dr. Spencer Lake from Washington University in St. Louis challenged other labs to gather and donate as much PPE as possible.

"Gathered up whatever PPE we could find in lab to donate! Fellow lab friends - we challenge you to do the same if you can, every little bit helps!" he Tweeted. Lake directs the Musculoskeletal Soft Tissue Lab at Washington University.

"All of animal studies have stopped and all of our PPE reserves are going to @UF anesthesia. They'll put it to good use and help to keep people safe and healthy!" Tweeted Kyle D. Allen of the Orthopaedic Biomedical Engineering Laboratory at the University of Florida.

Officials at the Massachusetts Institute of Technology asked its labs to donate protective equipment.

"Local hospitals and medical centers currently have an acute need for PPE, including surgical masks, face shields, N95s, sanitizer, gloves, safety gowns, and transport media," Elazer Edelman wrote in a recent email to the MIT community.

As the director of the Institute for Medical Engineering and Science (IMES), the Edward J. Poitras Professor in Medical Engineering and Science, and a senior attending physician at Brigham and Women's Hospital, Edelman says that medical professionals throughout the region have reached out to him directly with requests for any PPE that can be donated.

"These hospitals are desperate for any of these supplies," he wrote.

To respond to this need, a cross-campus team at the Institute is working to solicit and collect any extra, unopened PPE from laboratories at MIT

Researchers and staff at the University of Texas at Dallas have banded together to donate supplies that will help.

On Monday, the research staff delivered the personal protective equipment to Parkland Memorial Hospital in Dallas for distribution to hospital workers involved in patient care.

They delivered: 72,000 gloves, 1,100 face masks, and 69 N-95 masks that were provided by faculty members from across the Richardson-based university's labs.