2022 SHU CHIEN ACHIEVEMENT AWARDEE
Date posted
December 3, 2021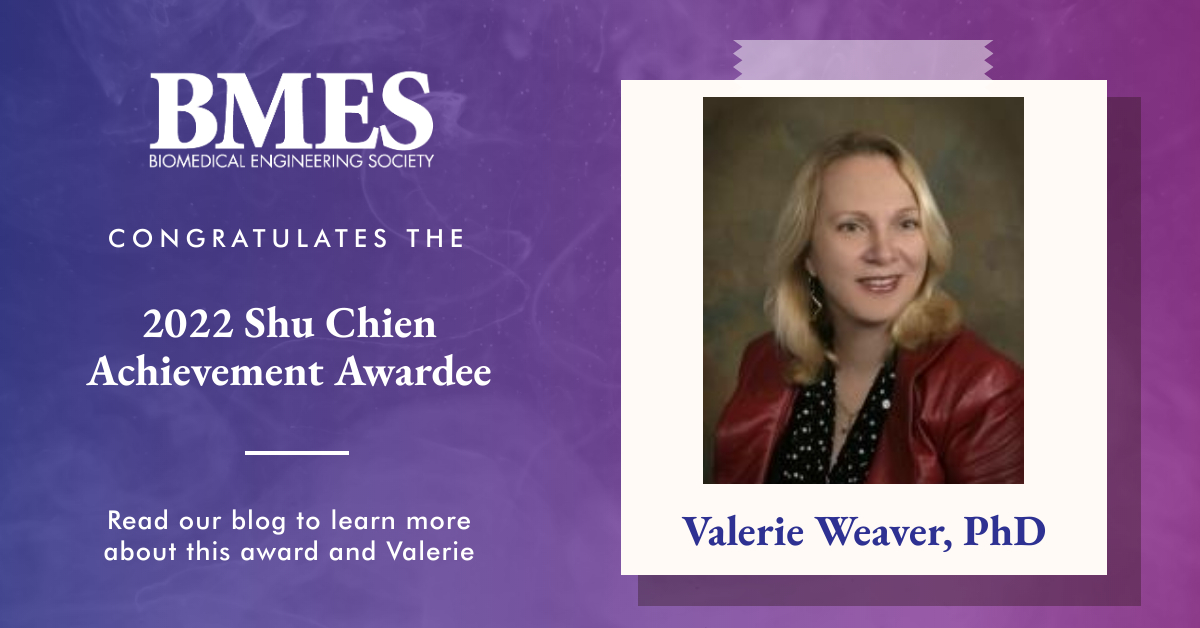 Director
Center for Bioengineering and Tissue Regeneration, Department of Surgery
University of California, San Francisco
The Shu Chien Achievement Award:
The BMES CMBE Shu Chien Achievement Award is the most prestigious honor bestowed by the BMES Cellular and Molecular Bioengineering (CMBE) Special Interest Group (SIG). This award recognizes an individual who has made exceptional contributions to the field of cellular and molecular bioengineering. These contributions include groundbreaking scientific advances, the development of programs to support this emerging field, the mentoring and training of the next generation of scientists, and the advancement of diversity and inclusivity.

About Valerie:
Valerie M. Weaver, Ph.D., is the Director of the Center for Bioengineering and Tissue Regeneration in the Department of Surgery. She earned her Bachelor of Science degree at the University of Waterloo in Biochemistry/Chemistry in 1985, continuing her education for an Honors Bachelor of Science in Biochemistry at the University of Ottawa (graduating Summa cum Laude). Dr. Weaver earned her doctorate degree, Ph.D, from the University of Ottawa in Biochemistry in 1992.
For more information on Valerie Weaver, please click here.