2022 CHRISTOPHER JACOBS AWARD FOR EXCELLENCE IN LEADERSHIP AWARDEE
Date posted
December 3, 2021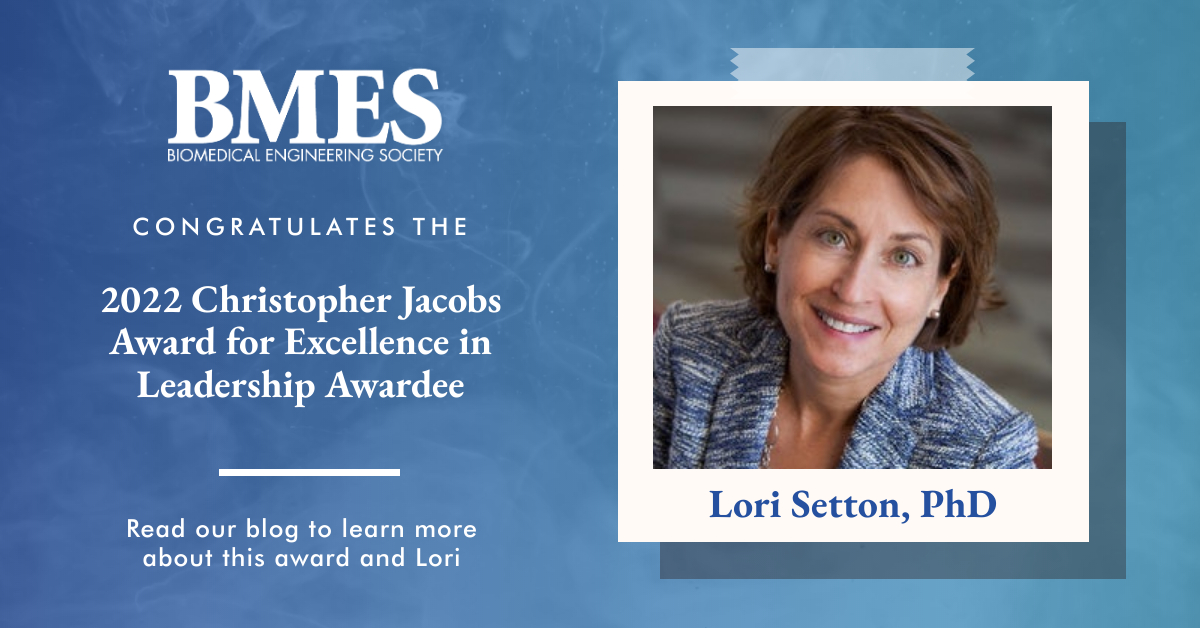 Department Chair
Lucy & Stanley Lopata Distinguished Professor of Biomedical Engineering
McKelvey School of Engineering, Washington University in St. Louis


The Christopher Jacobs Award for Excellence in Leadership Award:
The BMES CMBE Christopher Jacobs Award recognizes leadership excellence in the Cell and Molecular Bioengineering community. Leadership is broadly defined and includes efforts in education, service, and publication/dissemination of knowledge related to the CMBE field. Dedicated service will also be recognized based on time and level of involvement in various programs and activities at regional, national or international levels. Service to the field should demonstrate the nominee's commitment to the Cellular and Molecular Bioengineering community, willingness to give time and effort, and the ability to draw together varied resources to affect change in the community.
About Lori:
In 2015, Lori A. Setton joined Washington University in St. Louis as the Lucy and Stanley Lopata Distinguished Professor of Biomedical Engineering from Duke University, where she was the William Bevan Professor of Biomedical Engineering and Bass Fellow and associate professor of orthopaedic surgery. She joined the Duke faculty in 1995. She is a fellow of the Biomedical Engineering Society and of the American Institute of Biological and Medical Engineering and earned a Presidential Early Career Award from Scientists and Engineers (PECASE) in 1997, as well as several awards for excellence in mentoring.
Professor Setton earned master's and doctoral degrees, both in mechanical engineering and biomechanics, in 1988 and 1993, respectively, from Columbia University. She earned a bachelor's degree in mechanical and aerospace engineering from Princeton University.
For more information on Lori Setton, please click here.