COVID-19 Health and Wellness Check-In
You will need to verify your COVID-19 vaccination status or provide a negative PCR test.

---
As part of the registration process, every attendee was required to affirm his/her/their commitment to comply with the in-person meeting guidelines, including the health and safety policy. As part of that, we are conducting a health and wellness check-in upon arrival at BMES 2022 in San Antonio. 
To avoid lines at registration, p
lease upload your documents by Sunday, October 9. 
Get started on your verification process with the instructions below.
COVID-19 Verification Procedure
BMES will require all attendees to upload proof of vaccination or a negative COVID-19 PCR test (taken within 72 hours of arrival) prior to the 2022 BMES Annual Meeting.
 
Once our provider receives and verifies your documentation, our system will generate a green checkmark on your account/record.
 
We will ask you upon arrival, prior to picking up your badge at registration, to show us your verification status on your mobile device.
 
 Wearing a mask is required for all functions of the Annual Meeting.
 
Due to health and safety concerns, we cannot allow anyone into our meeting space and events that does not provide one of the two documentation options required (see number 1).
COVID-19 Verification Process 
Please upload your preferred documentation no later than Sunday, October 9
Attendees who have provided mobile numbers during registration will receive a text message with a link to upload documents.  

If you do not receive a text message, you can scan the QR code below to upload your document. 

Each participant must upload their own document through their own mobile device.

International Attendees: The QR code below will not work from your mobile device. Visit bit.ly/BMEShealth for the web messenger link to use only for individuals who are unable to upload via text or clicking on the QR code.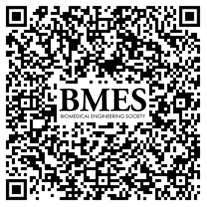 FAQs
If you have questions, please view this 
FAQ document
 from our provider, 42Chat.
To avoid lines at registration, upload your documents no later than Sunday, October 9